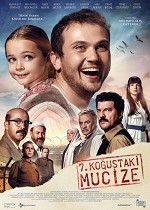 Memo lives with his beloved little daughter and grandmother in an Aegean town. Memo is a shepherd with a mental deficiency but he lives happily in his small World.

When Memo is framed with the murder of the martial law commander's daughter, his life is turned upside down. He's sentenced to the death penalty and he gets locked up in Seventh Ward.

There he has little chance of staying alive. The inmates treat him hatefully only to see he's a golden hearted guy after some time. They are convinced that Memo can't be a killer. In time everyone Memo has done right gets mobilized to save his life.