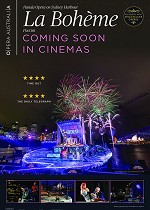 Puccini's beloved classic – the original bohemian love story – has long captivated audiences around the world.

His music swells with love, soars in ecstasy, crackles with jealousy and cries with heartache.

With lavish sets and costumes transforming the harbour-top stage into a romantic Paris winter, Opera Australia's glittering production will be an unforgettable delight.