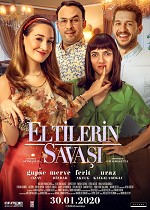 The filming of the entertaining and funny competition between two sisters-in-law is adorned with hilarious dialogues, great music and the impacts of social media on the everyday life of a lot of people.

This mixture brings a memorable movie experience to the cinemagoers. Not only women but also husbands and men shortly before marriage are promised to await hilarious moments.

The brothers, Selim and Fatih, get involved in the war of the sisters-in-law Sultan and Gizem. The movie shows the affinity of the ladies for social media, their ideas of marriage, interesting events during their family planning and what impact all of this has on Selim and Fatih...